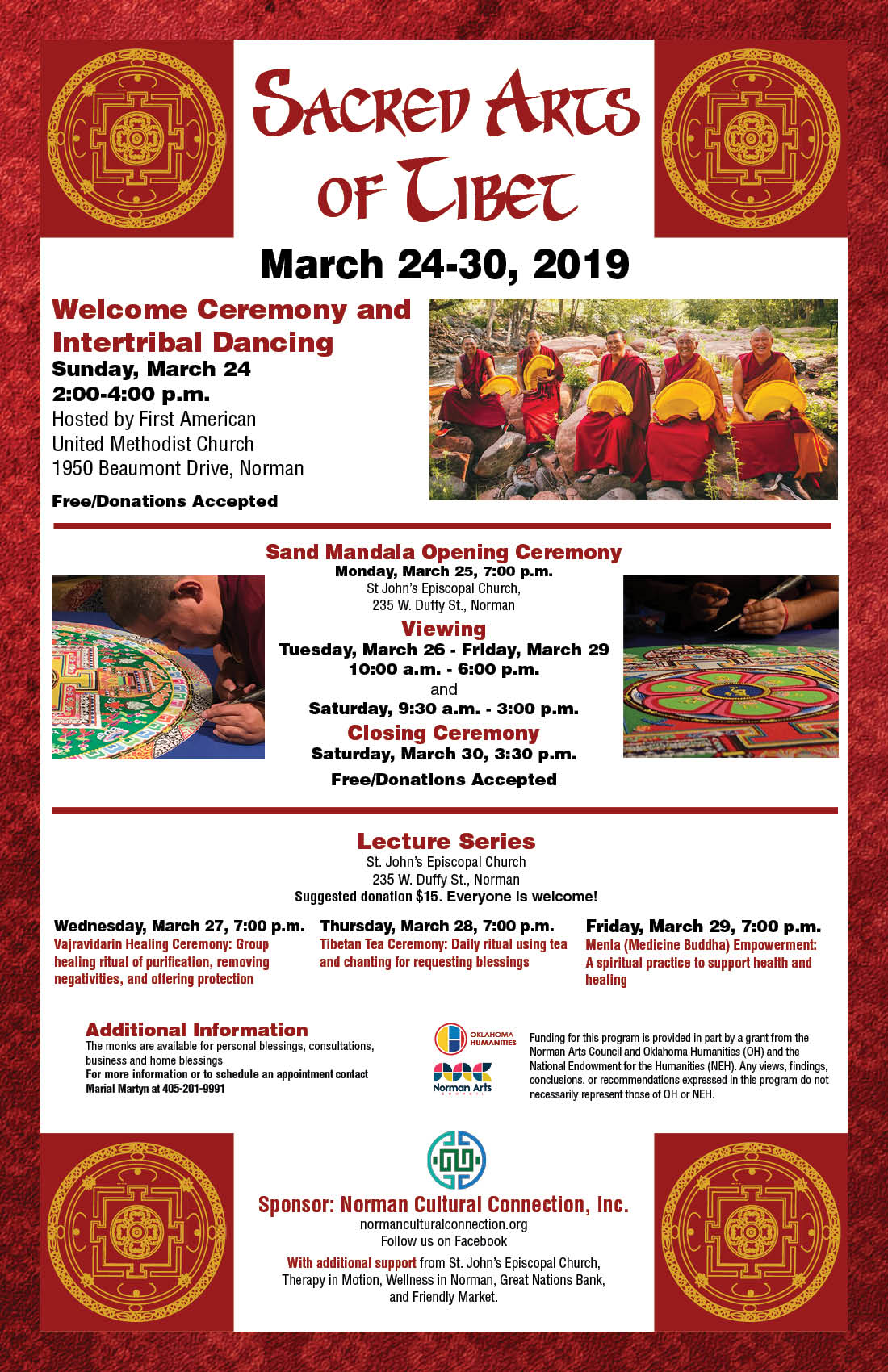 Tibetan Monks from the Gaden Shartse Monastery will visit Norman, Oklahoma, March 24–30, 2019, to share their culture. A variety of events will take place during the week-long visit including a welcome ceremony, an event series, and the artistic creation of a mandala sand painting.
The public presentations begin with a Welcome Ceremony and Intertribal Dancing at 2:00 p.m. March 24 hosted by the First American United Methodist Church, 1950 Beaumont Drive. The opening ceremony for the creation of a mandala sand painting will take place at 7:00 p.m. March 25 at St. John's Episcopal Church, 235 West Duffy in Norman. The group of monks may be observed creating the sand painting from 10:00 a.m. to 6:00 p.m. March 26–29 and 9:30 a.m. to 3:30 p.m. March 30. The creation of the sand painting with powdered and dyed stone, sand, dust, flowers, and charcoal will require between 75 and 125 hours, with several monks working at a time.
These free events are made possible, in part, by a grant from the Norman Arts Council Hotel Tax Grant Program and Oklahoma Humanities. Oklahoma Humanities (OH) is an independent, nonprofit organization whose mission is to promote meaningful public engagement with the humanities—disciplines such as history, literature, film studies, ethics, and philosophy. The humanities offer a deeper understanding of ourselves and others by confronting us with the questions, values, and meanings of the human experience. As the state partner for the National Endowment for the Humanities, OH brings people together to explore these ideas through programming and community grants that support book groups, exhibits, film festivals, teacher institutes, and more. OH engages people in their own communities, providing forums for education, critical thinking, and productive civil discourse.
A series of free evening events will be offered, with a suggested donation of $15, at St. John's March 27–29 at 7:00 p.m. beginning with the Vajravidarin Healing Ritual Wednesday evening followed by a Tibetan Tea Ceremony on Thursday and Menla (Medicine Buddha) Empowerment on Friday.
Monks from the Gaden Shartse Monastery in India have presented a series of lectures and created a sand mandala during visits to Norman over the past ten years. Their return to Norman is part of a national tour to be of service to the world community by nurturing peace, harmony, compassion, and tolerance through cultural exchange. For more information about the Sacred Arts of Tibet Tour 2019, visit: www.sacredartsoftibettour.org.
The monks' visit is sponsored by Norman Cultural Connection, Inc. NCC is committed to enhancing awareness, understanding, and appreciation of cultural diversity, social differences, and the wisdom of world cultures by hosting events for the community. The monks will be available for personal blessings, consultations, and business and home blessings. To schedule an appointment please contact Marial Martyn: (405) 201-9991 or email mmartyn@normancc.org.