Lecture Series and Service Projects
The Wisdom of Malawian Grandmothers with Dr. Jocelyn McGee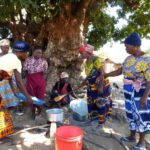 Please join us for an evening with Dr. Jocelyn McGee who will share the powerful stories of resilience she received from elders living in rural villages in Malawi, Africa. Most of the elders she interviewed were widowed grandmothers who struggle daily to survive while providing care for up to 10 orphans each. These wise elders have messages of loving kindness for the world which can inspire each of us to continue moving towards our highest potential as individuals and communities.
Date: Saturday, June 23rd

Time: 7:00pm

Location: 1017 Elm Avenue, Norman, OK

Suggested lecture donation: $15

Proceeds from this event will go towards Dr. McGee's ongoing work in Malawi. Also, come hear about the service project that Norman Cultural Connection is establishing to help the Malawian grandmothers.
Norman Cultural Connection and Dr. McGee are collaborating on a service project with the Othakarhaka Foundation in Malawi to provide tin roofs for elders whose thatch roofs have been destroyed. There are an estimated 53 elders hoping for roofs. The cost to provide a roof is estimated at $150. The materials will be obtained in Malawi and local people will be used for the construction projects. Donations toward this project can be given to Norman Cultural Connection, a 501(c) (3) organization, by clicking on the Donate button or mailing a check to Norman Cultural Connection, P.O. Box 1201, Norman, OK 73070. Please note the donation is for the Malawi Service Project. Any questions, contact Marial Martyn at 405-201-9991. See the Malawi Service Project flyer.
Service project with Zoe Sherinian and the Sakthi Folk Cultural Center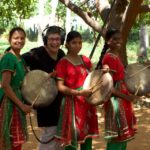 The Sakthi Folk Cultural Centre uses the Tamil folk arts to develop self-esteem & economic skills in young poor Dalit women (outcastes or untouchables). The documentary film, Sakthi Vibrations, reveals how Sakthi reclaims the degraded parai frame drum & dance to re-humanize & empower these young women through the physical embodiment of confidence in performance & reclaimed cultural identity.
Check out the trailer: https://vimeo.com/128614488
If you would like to assist Zoe with her work, please send donations through our Paypal button below!
Donations will go toward the replacement of Zoe's equipment stolen in Paris while en route to India to continue her work with the girls of the Sakthi Folk Cultural Centre.