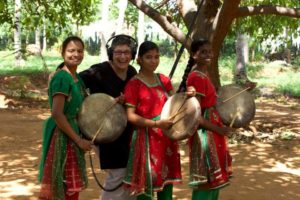 The Sakthi Folk Cultural Centre uses the Tamil folk arts to develop self-esteem & economic skills in young poor Dalit women (outcastes or untouchables). The documentary film, Sakthi Vibrations, reveals how Sakthi reclaims the degraded parai frame drum & dance to re-humanize & empower these young women through the physical embodiment of confidence in performance & reclaimed cultural identity.
Check out the trailer: https://vimeo.com/128614488
If you would like to assist Zoe with her work, please send donations through our Paypal button below! Donations will go toward the replacement of Zoe's equipment stolen in Paris while en route to India to continue her work with the girls of the Sakthi Folk Cultural Centre.